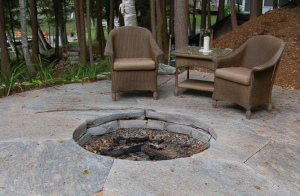 In the warmer months, people love to congregate on their patios, have barbecues and socialize the night away with family and friends.
While an amazing patio set and a beautifully landscaped garden add to the ambiance and atmosphere, there is another element you can consider adding to your backyard decor – a fire pit.
Some of our fondest memories, if you enjoy camping, are sitting by the fire telling stories, having a few drinks and making s'mores. The good news is, if you add a fire pit to your backyard decor, you don't have to go far to recreate those good times and memories.
Today's fire pits are made from durable and beautiful granite. This natural stone not only beautifies your backyard environment, but can even add to the resale value of your home.
Some are made with the ability to place a grill on top, allowing you and your family to enjoy it as a barbecue as well. They are a great decorative addition to any outdoor party you may host.
Possibly one of the best reasons to consider adding an outdoor fire pit to your garden and patio space is that it allows you to enjoy the season longer. Since it offers both heat and beauty, you will be able to enjoy your patio early in the spring season and later into the fall.
If you are considering adding a fire pit to your outdoor garden and patio space, contact Natural Images Landscaping Ltd. in Muskoka. We will visit your home to discuss fire pit options for your space. If you want to learn more, contact Debbie or Dan at 705-646-0610 or visit them at www.naturalimagesmuskoka.com.