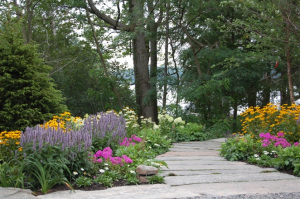 There are many ways to design and create a beautiful outdoor garden space, but there is one way to add a special enhancing element to any outdoor design – a water feature.
Water features can be as large as a waterfall or as small as a bird fountain, but there are so many options to choose from you could easily add several different types of water features to your outdoor space.
While koi ponds are still popular, the trend towards waterfalls, streams and stone fountains are becoming the water feature of choice, especially for those who have larger yard spaces, e.g., those who live in more natural settings especially in cottage country.
If you are opting out of buying store-bought manufactured water features, it's a great idea to seek out a landscaping company that specializes in designing and building custom made water features. This way, you will be getting a feature that is unique, will be incorporated properly into your current landscape and professionally installed.
Hiring professionals means they will help you choose the right location to install your water feature, the best style and material to build it with. They can also help you with any maintenance issues you may encounter down the road.
Remember: When choosing water features for your outdoor space, you should consider what will complement the look of your garden and consider the size so the water feature doesn't overpower your space. You should also consider your budget because a big and elaborate water feature can be costly. But once it's all said and done, your custom water feature will bring you many years of enjoyment!
If you would like to add a custom-built water feature to your outdoor garden space, contact Natural Images Landscaping Ltd. in Muskoka. They will visit your home to discuss fire pit options ideal for your space. If you want to learn more, contact Debbie or Dan at 705-646-0610 or visit them at www.naturalimagesmuskoka.com.