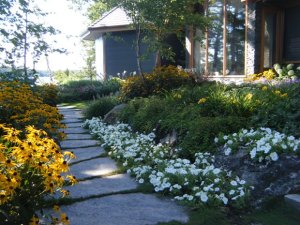 In today's world, people want things and they want them right now!
Such is the way for those who want a beautifully landscaped garden but don't want or have the time to build it from scratch and wait for it to mature.
Now, if you want a garden that looks like it's been established for years and properly maintained, landscaping companies are designing and creating "instant gardens" to fulfill that need. They will happily design and create your space with plants, foliage, flowers and shrubs that are already matured and make your garden look like it's been there forever.
Installing an instant garden may sound like it takes the fun out of gradually building up your garden, or perhaps make some sound lazy, but the truth of the matter is that not everyone has the time, or the green thumb expertise, to create a beautiful and mature garden. Most cottagers, only enjoying their cottages in the summer and want to enjoy that space for the few months they spend there. Instant gardens are a perfect option for them to consider.
Keep in mind; you should have some idea of your design and layout ahead of time. Think about flowers that complement each other and that have different blooming schedules so you will constantly have something in your garden that's in bloom. Don't forget the plants that attract birds, bees and butterflies!
If you want a beautiful instant garden in your outdoor space, call Debbie and Dan of Natural Images Landscaping Ltd. in Muskoka. They have years of expertise and can create an instant garden that you will love. Call them today at 705-626-0610 or visit them at www.naturalimagesmuskoka.com.